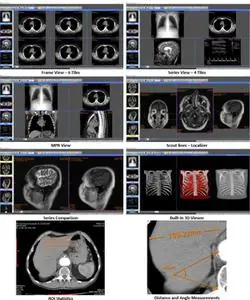 Sante PACS Server 3.1.6 | 123.5 Mb
Sante PACS Server is a DICOM 3.0 compliant PACS server, a Modality Worklist server, an HTTP (web) server for DICOM files and a CD/DVD Burning and Printing server that offers high performance and reliability at an affordable price. It provides connectivity to all DICOM modalities (CT, MR, US, CR, NM, XA, MG, DX etc.). Reviewing the DICOM images can be done using the Sante PACS Viewer (the Built-in full-featured DICOM viewer of the system). The built-in web server can be used as a free cloud server for DICOM files!
The Database module
The program uses the Postgres SQL server for database management and offers storage of unlimited number of patients/studies/series/images (it depends only on hard disk size).
The DICOM Server module
The built-in DICOM server supports all the DICOM network services (C-FIND SCU/SCP, C-MOVE SCU/SCP, C-STORE SCU/SCP, C-GET SCU/SCP, C-ECHO SCU/SCP), it is compatible with all the modalities (CT, MR, NM, US, XA, MG, CR, DX etc.), all manufacturers and all DICOM 3.0 and NEMA 2 file types. Moreover, it supports unlimited number of connections with unlimited number of DICOM nodes and DICOM clients.
The Worklist Server module
The built-in Worklist server module can receive via HL7 communication messages the patients demographics and scheduling information of exams that are stored in a HIS/RIS system (Hospital Information System / Radiology Information System) and transfer them to any modality/medical scanner via DICOM communication protocols (C-FIND).
The Web Server module
The Web Server module lets remote users of the system to connect with it, query and retrieve studies that have been stored in the database of the DICOM Server. The Web Server module, for these connections, uses the HTTP ot HTTPS protocol of the internet and the remote user must use a web browser like Edge, Chrome or Mozilla to query and retrieve studies. The web server supports SSL secure connections. This module lets the user to connect, query, retrieve and review DICOM studies stored in the system from anywhere in the world and it can be used as a free cloud server!
Minimum Requirements:
Windows Server 2019/2016/2012/2008 or Windows 11/10/8.1/8/7/Vista 64-bit
Intel Core i3 1.3GHz or greater
4 GB memory or more
Graphics card with 512 MB memory
Monitor that supports resolution 1366x768 or above, and true color (16M Colors)
Pointer device (Mouse)
500MB free space on hard disk
Home Page
-
https://www.santesoft.com/

Download From 1DL
https://1dl.net/21dupwzno7k3/k76k9.Sante.PACS.Server.3.1.6.rar
.html
https://uploadgig.com/file/download/4ebb9d89F8aE1915/k76k9.Sante.PACS.Server.3.1.6.rar
https://rapidgator.net/file/03839c962662cac2da574210c9e2c987/k76k9.Sante.PACS.Server.3.1.6.rar
.html
https://nitroflare.com/view/517E03D7759640E/k76k9.Sante.PACS.Server.3.1.6.rar
Please Help Me Click Connect Icon Below Here and Share News to Social Network | Thanks you !