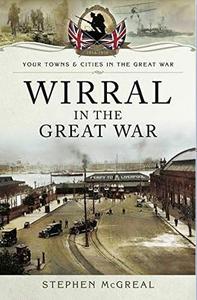 Murray Rowlands, "Wirral in the Great War"

English | 2014 | ISBN: 1783032936 | 176 pages | EPUB | 21 MB

On 4 August 1914 Britain declared war on Germany. Originally perceived as a short campaign to curtail Germanic imperialism, it developed into a four-year long war of attrition. The Great War is justifiably associated with the horrors of trench warfare and the death of a generation but history has overlooked the home fronts' colossal contribution to victory.



On the outbreak of war thousands of troops arrived in Wirral to defend the coast from invasion and guard the docks and shipyards under the watchful eyes of the gunners of the Bidston Hill artillery batteries. The transition to a military garrison also led to the conversion of schools to military hospitals, predominately financed by the community. Thousands of wounded service men arriving at Woodside station were dispersed and administered to by a plethora of military or auxiliary hospitals. Voluntary organizations also procured funds for ambulances and comforts for those at the front. At the beginning of hostilities, the Government swiftly introduced draconian regulations to restrict liberty, particularly for those of foreign extraction.
Following the 1915 sinking of the Lusitania, the xenophobia vented itself in Wallasey and Birkenhead where riots resulted in the destruction of German owned business premises. The resentment was further fueled by the German submarines attempt to destroy the British merchant fleet and starve Britain into submission they almost succeeded. As vital cargoes plunged to the sea bed, food became the latest rationed commodity; consequently unused tracts of Wirral land were turned over to food production and German prisoners of war helped clear the river Birkett. The local shipyards and factories came under the control of the Ministry of Munitions and unlikely companies were involved in the national preoccupation of producing artillery shells. Following the 1916 introduction of compulsory military service, female workers increasingly replaced the men thereby making undreamed of advances in female emancipation. Also involved in the war effort were school children who collected food for wounded soldiers, boy scouts patrolled the coastline, 'sister Susie famously sewed shirts for soldiers' and a Dad's Army was established to repel invaders. Their activities and others are generally overlooked by twentieth century chroniclers.
This is the fascinating, but forgotten story of how Wirral provided the sinews for war, and made a significant contribution to the comprehensive defeat of Germany.