Wilson's War How Woodrow Wilson's Great Blunder Led to Hitler, Lenin, Stalin, and World War II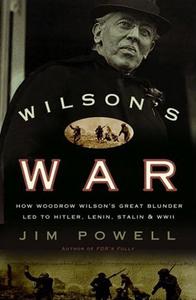 Wilson's War: How Woodrow Wilson's Great Blunder Led to Hitler, Lenin, Stalin, and World War II by Jim Powell

English | March 29, 2005 | ISBN: 1400082366 | True EPUB | 352 pages | 0.5 MB

The fateful blunder that radically altered the course of the twentieth century-and led to some of the most murderous dictators in history



President Woodrow Wilson famously rallied the United States to enter World War I by saying the nation had a duty to make "the world safe for democracy." But as historian Jim Powell demonstrates in this shocking reappraisal, Wilson actually made a horrible blunder by committing the United States to fight. Far from making the world safe for democracy, America's entry into the war opened the door to murderous tyrants and Communist rulers. No other president has had a hand-however unintentional-in so much destruction. That's why, Powell declares, "Wilson surely ranks as the worst president in American history."
Wilson's War reveals the horrifying consequences of our twenty-eighth president's fateful decision to enter the fray in Europe. It led to millions of additional casualties in a war that had ground to a stalemate. And even more disturbing were the long-term consequences-consequences that played out well after Wilson's death. Powell convincingly demonstrates that America's armed forces enabled the Allies to win a decisive victory they would not otherwise have won-thus enabling them to impose the draconian surrender terms on Germany that paved the way for Adolf Hitler's rise to power.
Powell also shows how Wilson's naiveté and poor strategy allowed the Bolsheviks to seize power in Russia. Given a boost by Woodrow Wilson, Lenin embarked on a reign of terror that continued under Joseph Stalin. The result of Wilson's blunder was seventy years of Soviet Communism, during which time the Communist government murdered some sixty million people.
Just as Powell's FDR's Folly exploded the myths about Franklin Roosevelt and the New Deal, Wilson's War destroys the conventional image of Woodrow Wilson as a great "progressive" who showed how the United States can do good by intervening in the affairs of other nations. Jim Powell delivers a stunning reminder that we should focus less on a president's high-minded ideals and good intentions than on the consequences of his actions.


https://hot4share.com/g4q3to9j7c1f/7amtz.W.W.H.W.W.G.B.L.t.H.L.S.a.W.W.I.rar
.html
https://rapidgator.net/file/e5d916733169e4dad96b0e5d63f047c2/7amtz.W.W.H.W.W.G.B.L.t.H.L.S.a.W.W.I.rar
.html
https://uploadgig.com/file/download/A7c424800984B9D3/7amtz.W.W.H.W.W.G.B.L.t.H.L.S.a.W.W.I.rar
https://nitro.download/view/31894902D329797/7amtz.W.W.H.W.W.G.B.L.t.H.L.S.a.W.W.I.rar