The Essential Sugar Free Desserts Recipe Book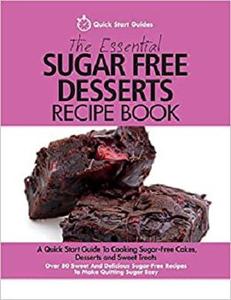 The Essential Sugar Free Desserts Recipe Book: A Quick Start Guide To Cooking Sugar-Free Cakes, Desserts and Sweet Treats. Over 80 Sweet And Delicious Sugar-Free Recipes To Make Quitting Sugar Easy by Erin Rose Publishing

English | September 16, 2016 | ISBN: 1911492020 | 100 pages | EPUB | 0.43 Mb

With lots of lovely, healthy recipes for sugar-free desserts, cookies, cakes, puddings and chocolatey delights to choose from, you will be spoiled for choice, when it comes to satisfying those taste buds. There is something for everyone, from traditional family favourites like Apple & Blackberry Pie, Summer Pudding and Rhubarb Crumble to innovative energy balls, pies and brownies, using natural sweetness and low carb ingredients.



Whether you are avoiding refined sugar, honey and syrups, steering clear of too much fructose or even starting a low-carb diet you'll find something to suit you from over 80 simply mouth-watering recipes. Healthy eating is now even easier!
- Over 80 Delicious Sugar Free Recipes For Cakes, Desserts and Sweet Treats!
- Treat yourself to a healthy sweet dessert!
- Discover what you can eat which is sweet tasting yet healthy!
- Lose weight, improve your health and feel great!
- Unleash a healthier and happier you!
- Plenty of amazing sugar-free dessert recipes to choose from!