Pontano's Virtues Aristotelian Moral and Political Thought in the Renaissance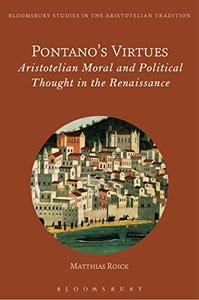 Pontano's Virtues: Aristotelian Moral and Political Thought in the Renaissance (Bloomsbury Studies in the Aristotelian Tradition) by Matthias Roick

English | February 23, 2017 | ISBN: 1474281850, 1350082171 | True EPUB/PDF | 336 pages | 0.5/4 MB

First secretary to the Aragonese kings of Naples, Giovanni Pontano (1429-1503) was a key figure of the Italian Renaissance. A poet and a philosopher of high repute, Pontano's works offer a reflection on the achievements of fifteenth-century humanism and address major themes of early modern moral and political thought.



Taking his defining inspiration from Aristotle, Pontano wrote on topics such as prudence, fortune, magnificence, and the art of pleasant conversation, rewriting Aristotle's Ethics in the guise of a new Latin philosophy, inscribed with the patterns of Renaissance culture. This book shows how Pontano's rewriting of Aristotelian ethics affected not only his philosophical views, but also his political life and his place in the humanist movement. Drawing on Pontano's treatises, dialogues, letters, poems and political writings, Matthias Roick presents us with the first comprehensive study of Pontano's moral and political thought, offering novel insights into the workings of Aristotelian virtue ethics in the early modern period.


https://hot4share.com/5pctui9eizn4/uw966.P.s.V.e.rar
.html
https://hot4share.com/2vy71bvm134b/uw966.P.s.V.p.rar
.html
https://rapidgator.net/file/82b665af6be99990679eaa2804552e72/uw966.P.s.V.e.rar
.html
https://rapidgator.net/file/95885df3574202edef7b921de97f842b/uw966.P.s.V.p.rar
.html
https://uploadgig.com/file/download/c2132149839229d1/uw966.P.s.V.e.rar
https://uploadgig.com/file/download/9b7619B9426d4d15/uw966.P.s.V.p.rar
https://nitro.download/view/E10776593145B52/uw966.P.s.V.e.rar
https://nitro.download/view/394906D92CCF384/uw966.P.s.V.p.rar