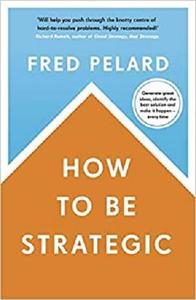 How to be Strategic by Penguin Business

English | October 8, 2020 | ISBN: 0241423031 | 256 pages | PDF | 12 Mb

FT BUSINESS BOOK OF THE MONTH



Being strategic is a critical skill. It enables you to solve problems on a day-to-day basis while also keeping an eye on the long term, anticipating opportunities and mitigating threats along the way.
Fred Pelard has been teaching strategic thinking to executives at all levels at leading companies around the world for almost 20 years. How to Be Strategic is his accessible and thorough guide to strategic thinking in any situation. It contains 12 smartly illustrated, workable methodologies from leading experts like Eric Ries, Chan Kim, and Barbara Minto, and will help you find your own path to the right solution every time.