Emperor of the Five Rivers The Life and Times of Maharajah Ranjit Singh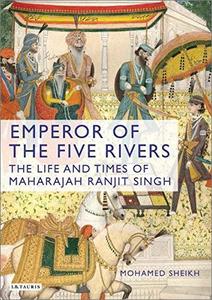 Emperor of the Five Rivers: The Life and Times of Maharajah Ranjit Singh by Mohamed Sheikh

English | March 30, 2017 | ISBN: 1848857543 | True EPUB | 256 pages | 3.3 MB

In 1801, at the age of just 20 years old, Ranjit Singh became the Maharaja of the Punjab Empire and subsequently became one of the greatest figures in the history of India.



He was a fiercely brave leader, capturing the city of Lahore before becoming Maharaja and overcoming a variety of challenges during his 40-year rule, such as harsh terrain, an ethnically and religiously diverse population and strong aggressors including the British and the Afghans. Despite such challenges, Ranjit Singh was able to unite Punjab's various factions yet rule a nation that was strictly secular; the Maharaja was benevolent to his subjects no matter their ethnicity or religion and sought to promote interfaith unity through policies of equality and non-discrimination.
Aside from building his own nation, Ranjit built solid strategic relations with his most challenging aggressor - the British. Through stamina and political will, he managed to establish a formal treaty between the two and secured from 1809 Britain's protection against third party attempts to conquer the Punjab. Following Ranjit Singh's death in 1839, the Empire fell into decline. Just six years later, the Punjabis attacked the British, and in 1845 they were beaten and forced to sign the Treaty of Lahore, essentially conceding control to the British.
Ranjit Singh's personal characteristics and leadership skills were what held the Punjab nation together in a tumultuous period in history. Mohamed Sheikh's new account of Singh's life illustrates these characteristics and skills and illuminates the man who singlehandedly created and sustained the Empire.


https://hot4share.com/4umbtzz1rbye/4rz8f.E.o.t.F.R.T.L.a.T.o.M.R.S.rar
.html
https://rapidgator.net/file/b2c1e2bae39ad0997d567715c7f9e87b/4rz8f.E.o.t.F.R.T.L.a.T.o.M.R.S.rar
.html
https://uploadgig.com/file/download/a622510f66A33d17/4rz8f.E.o.t.F.R.T.L.a.T.o.M.R.S.rar
https://nitro.download/view/CE0837EE78A31FA/4rz8f.E.o.t.F.R.T.L.a.T.o.M.R.S.rar