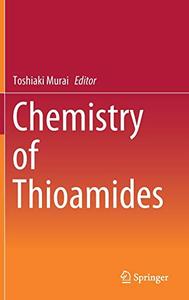 Chemistry of Thioamides by Toshiaki Murai

English | EPUB | 2019 | 238 Pages | ISBN : 9811378274 | 17.6 MB

This book covers whole aspects of the sulfur isologues of amides. Starting from the synthetic methods of thioamides, a range of synthetic applications to the construction of carbon-sulfur and carbon-carbon bonds, to asymmetric reactions, to formation of heterocycles are described.



Among the array of thiocarbonyl compounds, thioamides are readily handled in room temperature air. Some of their characteristic features are that the polarity of C=S bonds in thioamides is much smaller than C=O bonds in ordinary amides, that thioamides possess higher HOMO and lower LUMO when compared with those of ordinary amides, and that carbon atoms alpha to the C=S and nitrogen atoms in thioamides are more acidic than those in ordinary amides. Theoretical studies further disclose their features.
Thioamides are also used as ligands to a wide variety of metals. Their unique photophysical properties and catalytic activities are described here. Characteristic features of biologically relevant thioamides, e.g., thiopeptides and related compounds, are the final focus of the book.