A Relational Approach to Educational Inequality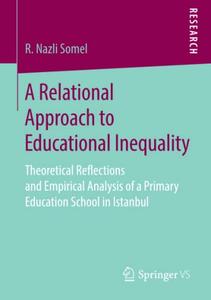 A Relational Approach to Educational Inequality: Theoretical Reflections and Empirical Analysis of a Primary Education School in Istanbul by R. Nazli Somel

English | PDF | 2019 | 292 Pages | ISBN : 3658266147 | 2.6 MB

In her research R. Nazlı Somel focuses on the topic of educational inequality, both from a theoretical perspective and through an empirical analysis. After a review of prominent approaches to educational inequality and their criticism, she offers a novel strategy to study the issue based on Relational Sociology and using the relational approaches of Charles Tilly and Pierre Bourdieu.



Three relational characteristics of educational inequality are identified that are its relativity, cumulativeness, and being an organized practice. The author then applies this relational perspective to an in-depth study on an Istanbul primary school, analyses students, teachers and school organization in relation to each other and to Turkish education system and society.
Contents
* Educational Inequality and the Single-School Study
* Major Dimensions of Educational Inequality in Turkey
* Conceptualizing Educational Inequality: A Relational Approach
* A Typology of Student Milieus
* Common Teacher Practices
* The School Organization and its Educational Inequality Mechanisms
Target Groups
* Scholars and students of sociology and sociology of education
* Teachers, education activists, as well as education policy authorities
The Author
Dr. R. Nazlı Somel completed her dissertation thesis at humanities and social sciences faculty at Helmut Schmidt University Hamburg in 2019. Her research focus is on educational inequality, education and social change, history and politics of modern education.