A Guide to Hitler's Munich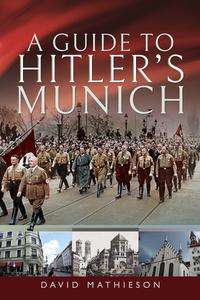 A Guide to Hitler's Munich by David Mathieson

English | April 1st, 2021 | ISBN: 1526727331, 1526766256 | 192 pages | True EPUB | 22.28 MB

Packed with historically significant locations, this history and guide offers a unique look at Munich as the site of Hitler's rise to power.



Munich is one of Europe's most enchanting cities. It is a delight to explore its cobblestone streets and sunlight boulevards with views of the Bavarian Alps-especially during its world-famous Oktoberfest. Yet many visitors know that Munich also has a dark past.
The Bavarian capital played a unique role in the ascent of Adolf Hitler, Nazism, and the Third Reich. It was in Munich that Hitler first entered the murky world of beer Keller politics after the First World War. It was also where he established the fanatical base of his NSDAP party. The city was, in his words, 'the capital of the movement'.
This illustrative new book explains how Munich became inextricably linked with the rise and fall of Nazism. It provides the modern reader with a detailed guide to what happened where in the city, why those events were important in the unfolding history of the Third Reich - and why they remain an important warning today.