The Business of Indie Games Everything You Need to Know to Conquer the Indie Games Industry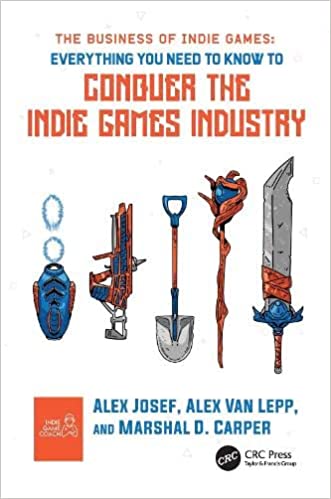 English | 2022 | ISBN: 103210421X, 978-1032104218 | 289 pages | True PDF | 8.83 MB

The Business of Indie Games

provides exceptional insight into how the video games industry works. It shares valuable information on how to successfully self-publish and secure publisher support. Whether you're making your first game or tenth, this book is a must read.

- Paul Baldwin, Curve Digital



The video game industry is a tough business and anyone looking to succeed in indie development should giveThe Business of Indie Gamesa read.
- Graham Smith, Co-Founder of DrinkBox Studios
This book is a fast track to success for anyone managing a game launch and looking to raise funding for their projects. It shares knowledge that you only learn after years of triumphs and failures within this industry.
- Scott Drader, Co-Founder of Metalhead Software
There's nothing likeThe Business of Indie Gamestaught in school. You learn how to make a game, but not how to conduct business, market, and launch a game. This book dives into topics that every indie developer should know.
- Yukon Wainczak, Founder of Snoozy Kazoo
I've seen no better guide for understanding how the video game industry really works. An important read for anyone whose work touches games, including those of us looking to engage the community.
- Carla Warner, Director of STREAM for No Kid Hungry
The Business of Indie Games explores what many universities forget to cover: how to sell and market your own indie game to potential publishers and developers. While many classes help students on their way to designing and programming their own games, there are few classes that equip students with the skills to sell their own product. In essence, this means future indie game developers are not equipped to talk to investors, negotiate with publishers, and engage with major platforms like Steam and Nintendo. Authors Alex Josef, Alex Van Lepp, and Marshal D. Carper are looking to rectify this problem by helping indie game developers and companies level up their business acumen. With detailed chapters and sections that deal with different engines, negotiation tactics, and marketing,The Business of Indie Gamesis the perfect omnibus for up-and-coming indie game developers. The future of gaming curriculums is not just in teaching students how to create games but also in preparing them for the business of games.



https://hot4share.com/c1ffpvaxma5t/u7lcu.T.B.o.I.G.E.Y.N.t.K.t.C.t.I.G.I.rar
.html
https://rapidgator.net/file/dcce0b243b54bed8caf0b410f0614f66/u7lcu.T.B.o.I.G.E.Y.N.t.K.t.C.t.I.G.I.rar
.html
https://nitro.download/view/5A7138245FAEF44/u7lcu.T.B.o.I.G.E.Y.N.t.K.t.C.t.I.G.I.rar
https://uploadgig.com/file/download/38875fa202358278/u7lcu.T.B.o.I.G.E.Y.N.t.K.t.C.t.I.G.I.rar